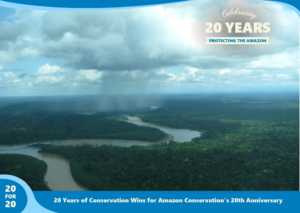 Last year we helped the local government of Ixiamas, Bolivia establish the Municipal Conservation Area of Bajo Madidi, an area spanning 3.7 million acres (1.5 million hectares). Three times the size of the Grand Canyon, this conservation area is the largest in Bolivia and one of the largest in the world. It hosts a variety of ecological landscapes including wetlands, lowland rainforests, and savannas. 
Throughout the long and complex creation process, we provided the technical expertise and assistance to both the government and local communities that was needed to officially declare the area. We also helped them gather and understand key environmental data on the conservation needs of this landscape to develop the plan to protect it for the long-term. This conservation plan now guides the sustainable use and management of natural resources in Bajo Madidi. 
The establishment of this area was a massive undertaking with contributions by local peoples and support from over 800 stakeholders. Successes like these are the foundation of our conservation efforts that have helped protect over 8.3 million acres of forests to date.